Importance of the skill map
The purpose of the competence table is,
Clarification of the competence of each personnel in each current department
Clarification of the current distribution of competencies of personnel in each department
Clarification of competencies required for the job
Identification of training needs
and so on. In this article, I would like to explain the importance of the competence table.
What is Education and Training?
Often, we see companies that are inadequate in terms of conducting and documenting education and training. Education and training are two different things. The English word for education is "Education" and the English word for training is "Training". For example, in a driving school, classroom training is education and on-the-road training is training. Memorizing traffic laws and road signs in classroom training is not enough to acquire driving skills. Many companies keep records of training but do not create or keep records of training. This is not to say that they do not actually conduct training. In many cases, senior workers will be teaching junior workers how to do the work on site. This is the so-called apprenticeship system. Otherwise, it would be difficult to carry out the work. Not only education, but also training must be planned and recorded.
What is competence?
Competence is called "competence" in English.
ISO 9000:2015, Quality Management Systems – Basics and Terminology, defines competence as follows
3.10.4 Competence
The ability to apply knowledge and skills to achieve intended results.
Here, "knowledge" will be acquired through education. The problem is "skills. As mentioned above, skills are acquired through on-the-job training (OJT).
By definition, however, competence is not simply the acquisition of a skill, but rather the "achievement of an intended result.
Let's take driving a car as an example.
After completing on-the-road training, the student has acquired a certain basic driving skill and is given a provisional license. Next, on-the-road training is conducted to acquire more practical driving skills. This is how the license is granted.
However, immediately after receiving the license, the driver is marked as a beginner.
In driving a car, the "intentionfigured result" as safe driving, it takes a lot of experience to be able to drive safely. It is through repeated scrapes and near-misses that one becomes a full-fledged driver.
If a driver has been driving for at least five years without accident or violation and has gained experience, he or she is awarded a gold license.
In other words, "experience" is important for building competence. Note that competence cannot be acquired through education and training alone.
In addition, even if you have a gold license, you cannot maintain competence if you do not drive.
What the author has experienced in audits is that when the competence table is examined, the department heads are rated as having the highest competence. This is not correct. When
questioned, the department head has not been in charge of the relevant work for more than 5 years. We must eliminate the assumption that the higher the rank, the more competent the person should be.
What is a skill map?
Companies need to create a Skill Map. However, few companies are able to properly create askill map. Because the definition of competence is "achieving intended results," having knowledge and skills is not enough. In skill maps, we sometimes find incorrect evaluation items such as the following.
Understands regulatory requirements
Understanding SOPs.
XX Education taken.
Such as.
These are knowledge, not competence, and are inappropriate as an assessment of competence. Rather, they are all matters of course.
In the assessment section of the competence table, the "XX can do" is appropriate.
For example,
Can solder
be able to caulk
Internal audits can be performed.
A risk management plan can be prepared.
Able to conduct risk assessments
The following are some examples. Also, it is appropriate to use about 5 levels in the evaluation.
5 – Can teach others
4 – Can perform alone
3 – Can perform with assistance
2 – in training
1 – not in charge (not in charge)
and others.
It is obvious that in order to actually engage in the work, there must be a rating of 4 or higher. There are two types of competency tables: individual competency tables and departmental skill maps. The individual competence table evaluates current competencies and manages goals for the near future.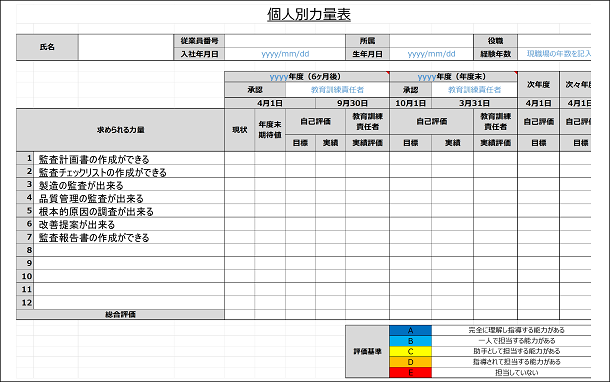 The departmental skill map should provide a glance at the overall competence of the personnel in the department concerned. This is how training needs are identified.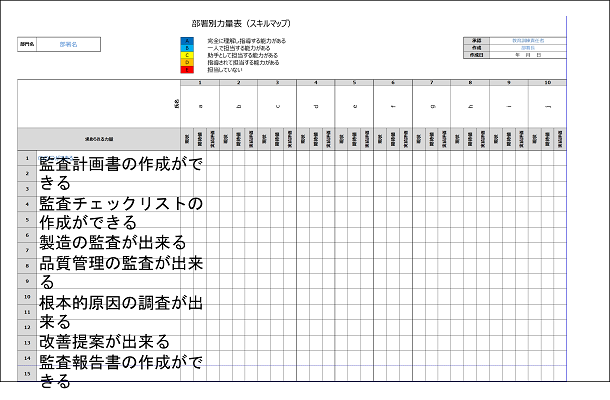 It is important to note that not everyone in the department needs to have all competencies. It is important to strike a balance and systematically develop a training plan that covers all necessary competencies.
関連商品
[blogcard url=https://xn--2lwu4a.jp/qms-md/ title="QMS(手順書)ひな形 医療機器関連" ] [blogcard url= https://ecompliance.co.jp/SHOP/MD-GCP-019.html title="【医療機器治験】教育訓練に関する標準業務手順書"] [blogcard url= https://ecompliance.co.jp/SHOP/O029.html title="【VOD】GMP製造における製造記録の作成とレビューのポイント~監査員の立場から~"] [blogcard url= https://ecompliance.co.jp/SHOP/O062.html title="【VOD】ヒューマンエラー防止対策"] [blogcard url= https://ecompliance.co.jp/SHOP/MD-QMS-21.html title="【FDA CFR 820 QSR対応】教育訓練規程・手順書・様式"]
]]>